This section consists of auditory comments by Richard C Moore regarding 14 of his watercolor sketches. He discusses both artistic techniques and information about the location. The movie is approximately 110 megs.
The MP4 presentation is currently formatted for the Explorer, and Firefox Browser in Windows 8 and for the I Pad or I Phone. Apple Macintosh using Chrome no control bar is present. For all Browsers click once on the video to pause, double click to play
The Flash presentation is currently formatted for Windows 8 computers with the Explorer, Firefox or Chrome Brower, and for Android Tablets and phones.
This presentations is best viewed with a high speed internet connection (DSL or Cable Modem).
--View MP4 Watercolor Painting Presentation ( 35.5 mins of MP4 Video ) --
--View Flash Watercolor Painting Presentation ( 35.5 mins of Flash Video ) --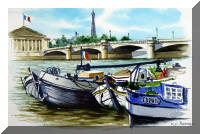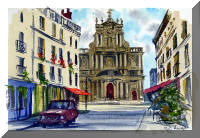 Arc De Triumph, Paris Barges on the Seine, Paris Church of St Paul & St Louis, Paris



( )

Copyright 2002: All rights reserved